Webinar #5: Active Citizenship - Our Town
How different sectors can join forces to activate thousands of volunteers nation-wide

Date: Sep 12, 2019 09:30 AM CET
The biggest corporate volunteering event in Central Europe started small. The very first year of Our Town was organised by Pontis Foundation in 2007 with only 20 companies and 400 volunteers participating. As of 2019, the project involved 30 times more volunteers with a total number of more than 10,000 people! Not only that, Our Town also spread from the capital city Bratislava to 45 cities all over Slovakia. It got scaled internationally as well.
Business people, city officials, CEOs – they all assist in hundreds of different activities to clean up public spaces, parks, playgrounds, schools or nursery areas. They clean rivers, restore castle ruins, help elderly people, and much more.
Over 13 years, Our Town evolved gradually, and Pontis Foundation, together with its Business Leaders Forum partners, gained a lot of experience. During this webinar, they will share their knowledge with you! With many practical examples, this project might be a great inspiration for community action in your small neighbourhood or across your country. Our special guest will be Lenka Surotchak, former long-time executive director of Pontis Foundation. Lenka initiated such cross-sectoral cooperation capitalizing on her Fulbright experience while studying and working in New York.
Topics to be covered:
Our Town: Why and How Did It All Start
Results in Slovakia: 2007-2019
Key Stakeholders and Tools behind the Success
Lessons Learned and Opportunities for Scaling
Our Town Vision for 2020 and Beyond
Secure your spot by registering at this link.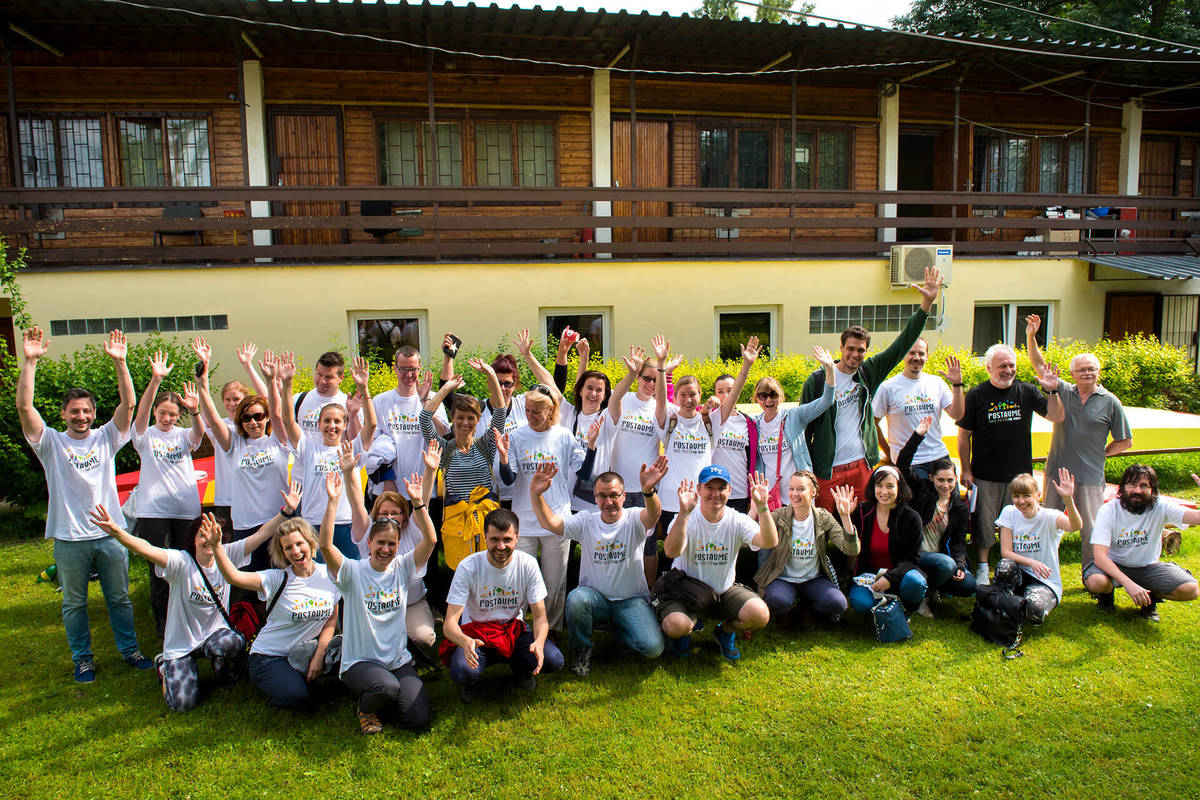 Webinar #4: Scaling Social Impact
Discover how social enterprises are amplifying their impact

Date: 31 July 19:30-20:30 CET
From developing a first viable business model, to growing an established business, social entrepreneurship navigates many phases, each with their own risks. In this special webinar we'll examine in greater detail the challenges and rewards of scaling a social enterprise. We've invited Kai Hübner, co-founder and coach at Impact Collective, to delve deeper into the fundamentals and nuances of scaling. We'll also be joined by founders from two social enterprises currently in the process of scaling: Alhassan Muniru of Recycle Up! Ghana and Frederic Goldkorn of Querfeld. Alhassan and Frederic will share their current scaling strategies and the insights they've gathered.
Scaling 101: What it is, when and how to do it.
Practitioner perspectives: Insights on scaling from two social businesses.
Secure your spot by registering at this link.
To prepare for the webinar, you may want to briefly familiarize yourself with the various phases along the social entrepreneurship journey.
The first three phases (idea development, business model development and market testing) are described in Module 2 on social business offered by the Social Innovation Academy. The module is available for free here!
About Social Impact

For over 20 years, Social Impact has been developing products and services that contribute towards securing future viability and social equity. In our eight Social Impact Labs we offer various programs for social start-ups and dedicated start-up consultancy for specific target groups.
Speaker's descriptions

Kai Hübner , co-founder and coach at Impact Collective, accompanies entrepreneurs and open-minded beings through their journey of finding success and happiness. In his work, he provides perspectives on a business, personal, and spiritual level and unites those to become one congruent story. He has founded both a successful, scaling social business and an impactful NGO. As a managing director of Impact Collective, he is helping existent social startups to scale their operations.
Alhassan Muniru , founder at Recycle Up! Ghana, is a recent graduate of the Joint International Masters in Sustainable Development from the universities of Leipzig, Utrecht and Stellenbosch. He is passionate about the environment, education, and youth empowerment and this is what led him to co-found Recycle Up! Ghana. He's a Ban Ki-moon Global Citizen Scholar, Watson Semester Incubator, Autumn School for Sustainable Entrepreneurship and Social Impact Lab Leipzig alumnus. He has been recognized by GreenBiz and the World Business Council for Sustainable Development as part of the 2019 class of 30 under 30 for sustainability.
Frederic Goldkorn , founder at Querfeld whose mission is to fight food waste by delivering natural diversity to our supermarkets, kitchens and tables. Up to 30% of each harvest of fruit and vegetables is getting sorted out because it does not look pretty enough! Together with their partners they managed to safe more than 280 tons of fruit and vegetables so far. Their next big step in scaling will be to connect farmers and kitchens all over Germany.
Webinar #3: How do I capture and communicate impact?
Breaking down the impact value chain by learning from successful social innovation initiatives
Date: 27. Mar. 12.30-13.30 CET

Measuring (social) impact has never been a piece of cake. That's why we invited a special guest from the Social Finance Academy: Maxime Cheng is an expert in Impact Measurement and Management. She will reveal to us the secrets of a well-done Theory of Change by providing some hands-on tips. During the webinar, we will focus on one of the biggest challenges of Impact Measurement, namely the difference between output and outcome, with the help of some real-life examples of social innovation initiatives.
Help us tailor the webinar to your interests by answering this poll.

The key questions which will be adressed are:
What are some common frameworks for Impact Measurement and Management (IMM)?
What tools should you use for measuring the impact of your social innovation?
What's the difference between output and outcome?
Secure your spot by registering at this link.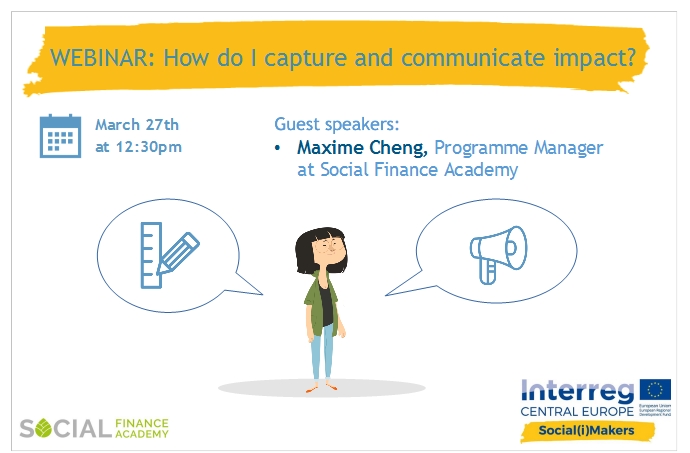 NB. In order to better follow the webinar, it is highly recommended to get some background knowledge by going to Module 5 on Impact Assessment offered by the Social Innovation Academy. Sign in here!

About Social Finance Academy
Social Finance Academy (SFA) is the language school where social entrepreneurs, impact investors and philanthropic & public funders learn to speak the same language. SFA provides both on-site trainings and online courses on the topic of social finance, blended finance and impact measurement & management. The first online course "Access to Impact Investment for Social Enterprise" is available on the website for free.
Speaker's description
Maxime Cheng is the programme manager of Social Finance Academy. She curates both online and on-site educational experience for social entrepreneurs, accelerators, investors and donors, so that they learn to speak the same language when it comes to the topic of social finance, investment readiness and impact measurement and management. Maxime obtained her Master of Public Policy from Hertie School of Governance, specializing in impact measurement. Prior to joining Roots of Impact she built an impact measurement and evaluation database at Impact Hub and advised mission-driven organizations and policy makers on the subject.
Webinar #2: Is Europe financing Social Innovation?

Date: 28. Nov. 12.30-13.30 CET
Finding the right instruments to implement your social innovative idea can be challenging. There are many possibilities out there and still more evolving.

Our two experts, Cyril Gouiffès, Investment Manager at the European Investment Fund and Alexandra Heraeus, Transaction Manager at FASE, will shed light on the spectrum of impact finance and share their complementary expertise. In this webinar they will touch upon the following questions:
What financial instruments are available for social entrepreneurs in Europe?
In which direction is the European impact investing market going?
What is the role of public investors like the European Investment Fund?
What is the role of private investors?
How does the investment process really work?
Secure your spot by registering at this link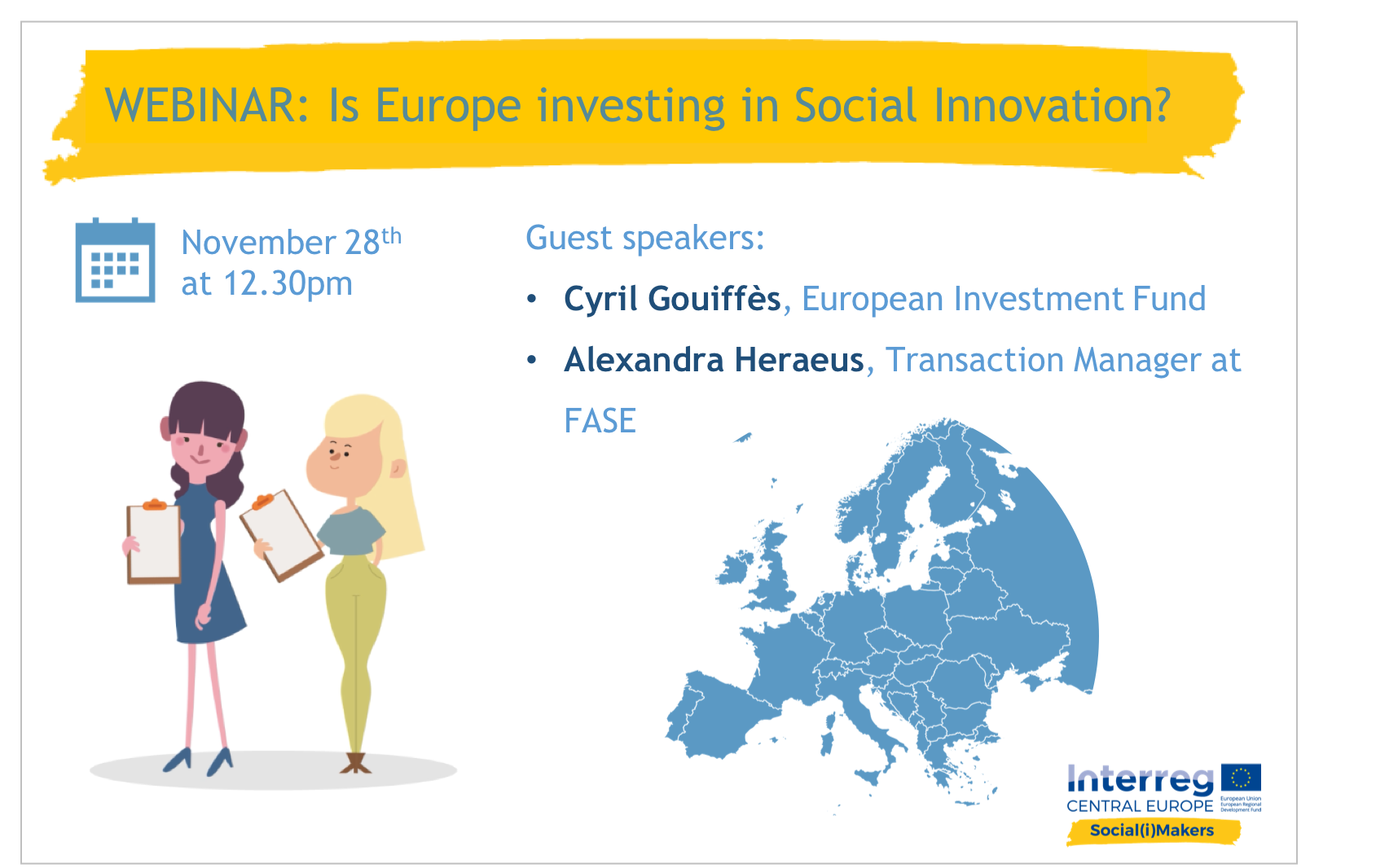 About FASE - Financing Agency for Social Entrepreneurship
The Financing Agency for Social Entrepreneurship (FASE) supports selected social enterprises in raising growth capital. They identify investors and financiers across the entire spectrum, ranging from private investors, family offices and foundations to social investors and banks. In order to develop innovative financing approaches that can serve as role models and blueprints, FASE focuses on combining several types of investors and different financing instruments. As an FASE independent organisation FASE cares deeply about the social and environmental impact of their projects and seeks to advance the social finance sector.
About EIF – European Investment Fund
The EIF supports Europe's SMEs by improving their access to finance through a wide range of selected financial intermediaries. To this end, they design, promote and implement equity and debt financial instruments which specifically target SMEs. In this role, the EIF fosters EU objectives in support of entrepreneurship, growth, innovation, research and development, and employment.
Webinar #1: Can Blockchain be a tool for Social Innovation?
Date: 29. Oct. 12.30-13.30 CET
You might have heard about emerging Decentralized Ledger Technologies such as Blockchain in relation to bitcoin and other cryptocurrencies, but little is said about its potential for social impact. If you are curious about blockchain applications for social innovation, you can find the recording and the presentation of the webinar on the Social Innovation Academy under the module Technology and Creativity for Social Innovation.

In this webinar, Lucas Zaehringer, the founder of positiveblockchain.io explained how blockchain technologies can be used to create social innovation by:
Creating a digital identity for undocumented people
Recording social impact and real-life data
Incentivizing social behaviours
Disintermediating international development work
Disrupting markets where data automation and ownership are key (energy, healthcare..)
About Positiveblockchain
Positiveblockchain.io is the open-source database and platform exploring blockchain for social impact. The database currently lists nearly 600 blockchain projects and startups that aim at generating positive social impact for the people and society.